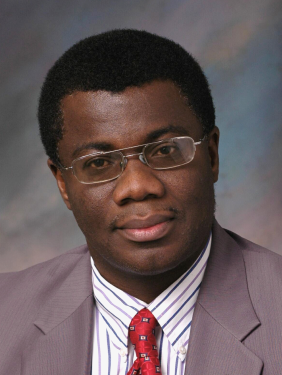 Experience Highlights
34 years of experience
Infrastructure management, Transportation finance, Project evaluation, Economic evaluation of new technologies, Public private partnership, Data analytics, Cost allocation and equity analysis.
Education
PhD, Civil Engineering, Purdue University, 2001
MS, Civil Engineering, Purdue University, 1998
BS, Civil Engineering, University of Science & Technology, 1987.
Samuel Labi
Professor, PURDUE UNIVERSITY
Dr. Samuel Labi is a professor at Purdue University's Lyles School of Civil Engineering, director and associate director of USDOT's Next Generation Transportation Systems (Nextrans) Center and Center for Connected and Automated Transportation (CCAT), respectively, at Purdue. Dr. Labi's work is guided by emergent threats (aging infrastructure, funding limitations, and infrastructure vulnerability) and opportunities (technological advancements, interdisciplinary synergies, and data analytics). In transportation finance and asset valuation, he has produced technical reports, and software packages with user manuals. Overall, his research clients include FHWA/Indiana DOT, USDOT, TRB (NCHRP), the World Bank, Rhode Island's state attorney general, and Illinois's auditor general. Dr. Labi's has authored 2 textbooks used in universities worldwide: Transportation Decision Making (2008) and Civil Engineering Systems (2014). He is assistant editor/editorial board member for journals including Computer-Aided Civil & Infrastructure Engineering and Infrastructure Systems (IS), and guest edited a recent IS special issue on transportation economics and finance. Dr. Labi's chairs ASCE's Economics & Finance committee. His major research awards include TRB's Woods Award (2008) for outstanding journal paper in design & construction and Grant Mickel (2018) award for outstanding journal paper in operations and maintenance, and ASCE's Frank Masters Award (2014) for outstanding and innovative work in transportation systems.
Relevant Project Experience
Financial Needs for Local Agency Highway and Street Departments—Local Technical Assistance Program. 2019-2021. Principal Investigator. Estimating age-based and performance-based funding needs for local highway pavement and bridge preservation.
Changes in Highway Agency Expenditures and Revenue in an Era of CAVs—USDOT, CCAT. 2018-2021. Principal Investigator. Estimating the impacts of the operations of electric, connected and automated transportation on highway agency expenditures and revenue in CAV era.
Indiana State Highway Cost Allocation & Revenue Attribution Study—FHWA/Indiana DOT. 2013-2015. Principal Investigator. Estimated the shares of damage across vehicle classes; assessed road user taxes and revenues by vehicle class.
Forecasting of Highway Revenues Under Various Options —FHWA/Indiana DOT. 2009-2012. Options, Principal Investigator. Assessed the financial sustainability of existing funding sources for highway construction and maintenance, and identified potential additional or alternative funding sources and examined their viability.
Public Private Partnerships in Highway Reconstruction, Rehabilitation, & Operations, — USDOT/Nextrans Center, 2009-2011 Principal Investigator. Developed an evaluation and decision support framework for Public Private Partnerships (PPP) to guide agency decisions whether to adopt a PPP for a given project and what type of PPP procurement package.
Alternatives to Fuel Tax—FHWA/Indiana DOT, 2006-2008. Co-Principal Investigator. Examined feasibility of non-traditional highway funding options.
An Assessment of Highway Financing Needs in Indiana—FHWA/Indiana DOT. 2002-2005. Co-Principal Investigator. Assessed annual physical and monetary needs for facility preservation on the basis of network size, deterioration trends, service lives, and minimum standards.
An Assessment of Cost-effectiveness of Warranty Contracts in Indiana —FHWA/Indiana DOT. 2003-2005. Co-Principal Investigator. Developed a methodology to assess cost-effectiveness of highway warranty construction practices in Indiana.
Publications
130 peer-reviewed articles, 40 technical reports.