Build America Center
The Build America Center (BAC) will mobilize the use of innovative finance, funding, and project delivery solutions to foster new approaches to transportation infrastructure development projects. In collaboration with the U.S. Department of Transportation, the BAC will lead cutting-edge research, deliver innovative training, and provide customized technical assistance in support of the Implementation of the Bipartisan Infrastructure Law.
UPDATED JULY 2022
A new online tool from McKinsey that offers a graphic representation of programs and funding that are available under the bipartisan infrastructure law. Users can sort through programs by federal department, program, deadline type, asset class and funding type.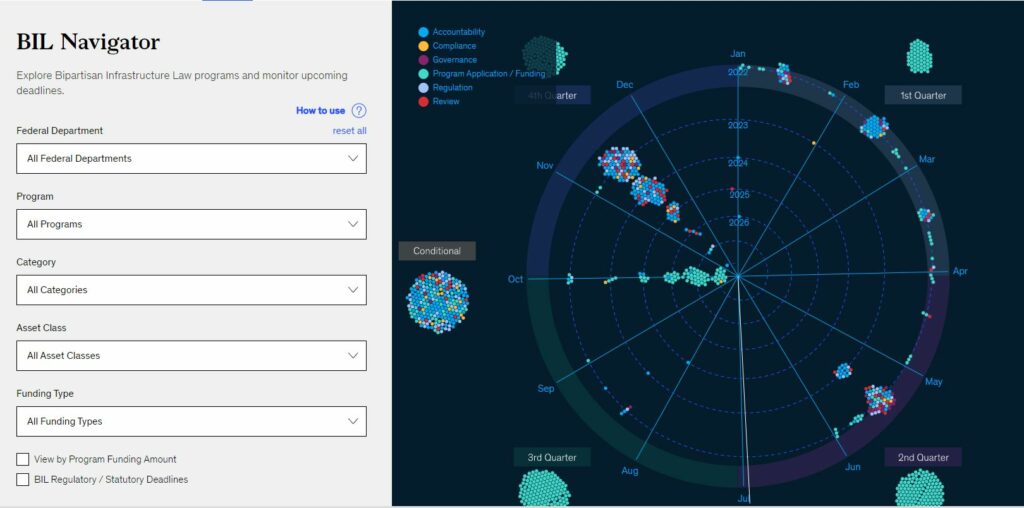 UPDATED JULY 2022
A national program to ensure that all cities and towns can access federal infrastructure funding to drive local recovery, improve communities, and deliver results for residents. It brings together leading policy and innovation experts into a program that includes information, resources, and technical assistance to help cities and towns of all sizes and from all regions to access this once-in-a-lifetime funding opportunity.
A Program by the National League of Cities, Results for America, and United States Conference of Mayors
Program Launches July 12, 2022

---
Sign Up For Updates
The Build America Center is an important new initiative established at the University of Maryland in partnership with the U.S. Department of Transportation. The Center will leverage the extensive transportation engineering and project management expertise available at UMD to help federal, state, and local decision makers understand and implement innovative new strategies for financing and managing highway projects.