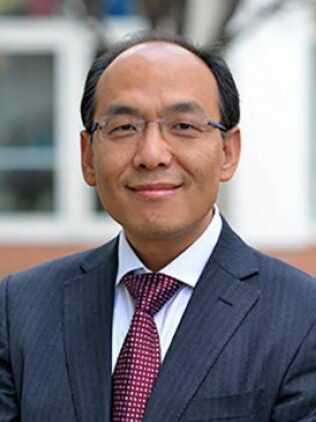 Experience Highlights
25 years of experience
Program Development,Project Finance, PublicPrivate Partnership, RiskManagement, Benefit CostAnalysis, Data Analytics,Policy Analysis.
Education
PhD, Civil Engineering, Purdue University, 2005
MS, Economics, Tianjin University, 2000
BS, Construction Engineering, Tianjin University, 1993
Qingbin Cui
Professor, UNIVERSITY OF MARYLAND
Dr. Qingbin Cui (QC) is Director of Public Private Partnerships Program at the Maryland Transportation Institute and Professor of Civil Engineering at the University of Maryland. He founded the Smart Construction Center to promote industry oriented applied research at UMD. He is a technical consultant to U.S. Department of Transportation for the P3 Capacity Building Program. Dr. Cui is also a member of the expert panel for the U.S. Department of Energy on energy performance contracting. He recently served on the Agile software develop expert for the Government Accountability Office (GAO) and reviewed the GAO Agile Assessment Guide. He worked with State Departments of Transportation on P3 legislation review, value for money analysis, project delivery method selection and performance assessment. Before his academic career, Dr. Cui was senior analyst with China Fortune Investment and provided feasibility analysis and due diligence services on energy projects under the Torch Program. Prior to that, he worked as a field engineer, team leader, and project manager at Sinopec (NYSE: SNP) and managed various types of construction projects including residential and commercial buildings, schools, industrial facilities, and roads. He also served as an estimator in the Kaifeng-Luoyang Expressway project funded by the World Bank.
Relevant Project Experience
Information Source for Major Transportation Projects— FHWA, 2018-2019. Principal Investigator. On this ongoing project, Dr. Cui leads the team to build a web-based platform that provide open access to a comprehensive database on major transportation projects.
Autonomous Technology Center Feasibility Study – MDOT and Potomac Highlands Airport Authority. 2018. Co-Principal Investigator. Dr. Cui led the entire team to interview more than 30 industrial partners followed by data analysis and policy development. The recommendation from this study directly contributed to Governor Hogan's decision on establishing an Automatous Technology Center in western Maryland.
Research to Support Ex-Post Analysis for Transportation Economics—FHWA/AASHTO, 2016-2018. Co-Principal Investigator. Dr. Cui led the data collection and case development for the EconWorks database. His work primarily focused on the case development of mega projects.
Efficient and Effective Implementation of Alternative Project Delivery—Maryland State Highway Administration. 2014-2016. Principal Investigator. Based on 24 highway projects delivered under Design-Build or CMAR, this project applied an empirical approach and evaluated the project performance of DB and CMAR projects.
A Case Study Comparing Conventional Project Delivery and Public-Private Partnership—SFTCA and Caltrans. 2013-2018. Principal Investigator. Dr. Cui led the team to examine the project performance of the Presidio Parkway project under both Design-Bid-Build and P3 delivery methods.
Development of Framework and Educational Tool to Assess the Benefits and Costs of Highway Public-Private Partnerships—FHWA. 2013-2015. Co-Principal Investigator. In collaboration with BAH and IMG Rebel, Dr. Cui led the team to develop the P3BCA methodology and analysis toolkit. The Excel-based toolkit, P3-VALUE, is currently mostly used educational toolkits for the P3 Value for Money training at transportation agencies.
Feasibility Study Guidelines for Public Private Partnership Projects—Alabama DOT. 2008-2010. Principal Investigator. Dr. Cui led the development of the guidebook and toolkit for P3 feasibility study at the early phase of project procurement. The Excel-based toolkit, namely P3FAST, was developed and tested using potential P3 projects in Alabama and can facilitate the P3 feasibility study and financing planning for transportation agencies.
Relevant Publications
130+ peer-reviewed articles, 25 technical report, and 1 patent